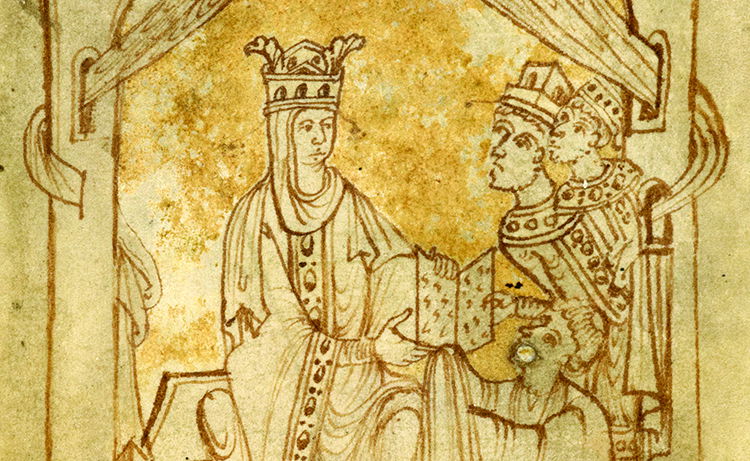 Emma was born in Normandy (modern day France) as the daughter of a Duke ( an important woman). In 1002 Emma was sent to England to become the wife of the Anglo-Saxon King of England – Aethelred. Emma and Aethelred had two sons including Edward – who became King. His nickname was Edward the Confessor.
Aethelred was having problems with Viking raids onto his land. However many Danes had settled in English towns since the time of Guthrum 15o years previously. In one violent incident – known as the St Brice's Day Massacre – Aethelred ordered the massacre of all Danes living in English territory to take place on 13 November 1002; it was St Brice's Day.
In 1013 Viking Sweyn Forkbeard invaded England and took the crown from Aethelred. Emma fled back to Normandy, but she was back in 1014 after Forkbeard died.
King Aethelred died in 1016, leaving her a widow and the Vikings were read to take the throne again. In 1017 Emma was forced to marry the new Danish King of England, Cnut.
Emma had another son with Cnut – named Harthacnut, as well as a daughter, Gunhilda of Denmark.
In 1040, Emma's sons Harthacnut and Edward (the Confessor) became kings of England. Harthacnut died in 1042, leaving Edward as sole king.